Gulls Way Campground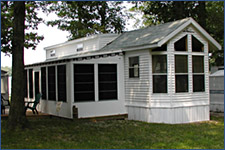 Located on lovely Pepper's Creek, a tributary of Indian River Bay, Gulls Way Campground offers the camper the finest and most modern campground facilities situated in an unspoiled natural setting. Gulls Way specializes in seasonal camping from April 15 to October 15.
We are pet friendly.
Campground Rules & Regulations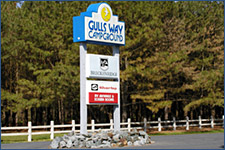 Our computerized card reading system increases your privacy and security, as well as prevents outsiders from taking advantage of our facilities for which you pay. Gate cards will be issued to you and your children and there is a $20.00 deposit on new cards.
Stop in the office and pick-up a complete up to date list of all the rules & regulations pertaining to accessory buildings, decks, platforms, awnings, golf carts, porch enclosures, etc.
No trailer older than 15 years may be sold or enter the park. Holding tanks are not permitted on park models.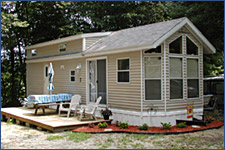 Gulls Way is a privately owned campground. We cater to the family and reserve the right to select our campers and guest. The rules and regulations herein are designed to promote the health, safety and welfare of campers and guest and to provide an aesthetically pleasing structure of uniform design and appearance, which comply with Sussex County Zoning Ordinance. The office must approve any park models or R.V. Trailers. Rules & Regulations pertaining to awnings, porches, decks and sheds may be picked up in the office.
When placing your trailer on your site stay five feet off all boundaries, Sussex County Code, set back requirements. Tongue to the road.
Electric Golf Carts Only! No electric or motorized bikes, scooters, skateboards, etc. All Motorcycles, ATVs, etc. must be left at the main office or sales office, even if they are in trailers or truck bodies. Golf carts within the park must register at the office for a fee of $20 per golf cart. There will be a limit of (2) carts per site. A license plate will be issued and must be prominently displayed on the front of the vehicle. Bikes & carts driven at night must have lights.
Quiet hours are from 11:00 p.m. until 7:00 a.m., teenagers must be on their site by 11 p.m.
You are responsible for mowing your grass and keeping your site neat & clean at all times. You must arrange to have your lawn mowed during extended absences.
Pets are welcome, BUT MUST BE LEASHED AT ALL TIMES. All waste must be cleaned up, and disposed of properly. Barking dogs disturb other people and cannot be tolerated, no Pit Bulls or Rottweilers.
Teenage children may NOT occupy your campsite without adult supervision. You as parents, will be held responsible for the behavior/actions of your children, even when they are left unattended at the bathhouse, recreation center, playground, etc.
Children are playing please observe all speed limit signs, which is 10 mph.
No one is allowed to use the Marina or privately rented boat slips for fishing or crabbing except the seasonal that the slip is rented to! There is a charge for the ramp $5.00 in and $5.00 out. There are cards available for the boater who uses the ramp frequently, the seasonal fee for this card is $125.00. The pier to the west and east of the boat ramp is for the loading & unloading of boats ONLY! NO TEMPORARY MOORING! Anyone wishing to leave their boat overnight will have to check in the office for a slip.
All vehicles, boats & boat trailers must be parked at least 3 ft. off the road and on your own site, NOT IN THE ROAD, (1) Boat & (1)Boat Trailer per site.
Campers with wooded sites, only use a soft rope to tie to the trees.
No outside refrigerators. No parking outside of gate or in front of dumpsters.
No planting of trees, bushes or shrubs of any kind, no wood other than mulch may be used for the purpose of landscaping, plastic landscape border only, no sprinklers! (No Stones of any kind) 2 patio blocks to wipe your feet off at door entrance only.
No walking or driving through sites..