Gulls Way Campground Rates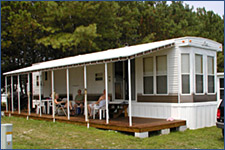 2022 Seasonal Rate* $3,270.00
All Seasonal sites have 3 hook-ups: sewer, water and electric, which is metered. Most of our sites are approximately 40' wide and 50' deep. There is plenty of room to store a boat, park a vehicle and have room left over to have a beautiful silver top porch with decking. We do allow you to have 1 storage building (8' x8') per site to store grills, bikes, lawnmowers, etc. Electric golf carts are permitted and satellite dishes. To obtain a golf cart you may contact Omni Golf Cart next door to us at 732-3955.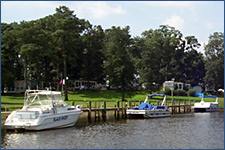 2022 Boat Slip Rate* $1,480.00
Slips vary in size, but most of them will accommodate a 20' x 8' wide boat. We do have electric and water hook-ups for easy access to cleaning. Most of our docks are floating, but we do have some that are stationary. There is also a boat ramp for those who don't want to rent a slip. You may obtain a seasonal pass for the ramp, the annual fee for this is $100.00.
*April 15th through October 15th