Gulls Way Trailer Sales Service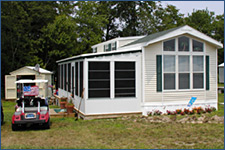 Our business is family owned and operated. So we stand behind and service what we sell! Breckenridge, which is a division of Thor Industries, comes with a 1 year warranty & Shore Park comes with a 15 month warranty. All appliances are under warranty from the manufacturer. We do have a small in-house parts and service store. If we don't have the part you need we will at least try to order or direct you to a store who does.
Some helpful hints regarding r.v.ing can be found on the following website - www.rvbasics.com
Our service department does offer winterizing for r.v.'s and parkmodels. Sign-up early and put your mind at ease, so that next spring you won't have to worry about broken waterlines.